Weather & Refund Policy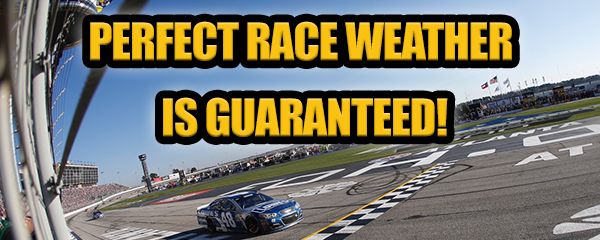 The Perfect Race Weather Guarantee is back for the 2019 NASCAR weekend! Here's the rundown:
If the maximum high temperature for Saturday's event or Sunday's event of race weekend fails to reach at least 50 degrees in Hampton, Georgia as observed by the National Weather Service, or if either event is postponed to a later date and you cannot attend and your grandstand ticket is not scanned, you can request a credit for the total value of your grandstand tickets for that day's event, and we'll place it in your customer account. You can then use the balance for any future AMS event or events in 2019 or even the 2020 NASCAR Weekend!
The credit will only be available if the Perfect Race Weather Guarantee goes into effect and if your tickets are not scanned at any entry gates on the day of the event. You must contact the AMS ticket office within 30 days following the event to receive your credit.
Also, if part of the day's activities are completed and the rest is postponed (ie., if the XFINITY race is completed by the Camping World Truck Series race is not or the Monster Energy NASCAR Cup Series event is postponed prior to its halfway point) customers may request a partial credit. The amount of the credit will be determined at that time.