Thursday, February 1, 2018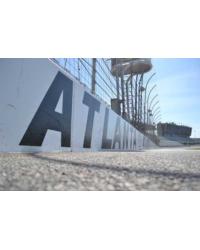 As we draw ever closer to the start of the 2018 NASCAR season, the storylines heading into Atlanta are already full of juicy intrigue! Drivers are already talking about what it will take to conquer the 21-year-old beast that is Atlanta Motor Speedway's surface when the series makes it annual stop at Atlanta Motor Speedway for the Folds of Honor QuikTrip 500 on February 25th.
A Shock to Teams 
Following the conclusion of the 2017 season and the crowning of Martin Truex Jr. as the new Monster Energy NASCAR Cup Series Champion in November, teams quickly turned their focus to the 2018 season and how to find Victory Lane and earn a trip to the NASCAR Playoffs. With the opening of the 2018 NASCAR season still a few days away, many teams have already begun to prepare for the second race of the season, the Folds of Honor QuikTrip 500 at Atlanta Motor Speedway. 
As the second race of the season, and the first non-restrictor plate race in 2018, many consider Atlanta Motor Speedway the real start to the season. Daniel Suarez, entering his second fulltime Cup Series season explained why this is the case for both drivers and their crews.
"For teams, crew chiefs, and engineers, Atlanta is a very important race, because it's the first mile-and-a-half race after Homestead," said Suarez. "So for them, it's going to be one of those races where we are going to see exactly where we're at and where we're going to start the season with the mile-and-a-half package."
Jamie McMurray, who has five top-10 finishes at Atlanta Motor Speedway, touched on this transition saying, "I think that's actually tough, because we are in Daytona for 10 or 11 days and there is so much buildup around that race before you ever get there. But then, once that race is over, is really when the season starts."
As some drivers count down the days to the start of the season, Matt Crafton counts down the days to racing on his favorite track - Atlanta Motor Speedway in the Active Pest Control 200 Benefiting Children's Healthcare of Atlanta. 
"That's when [the season] kicks into high gear, once you hit Atlanta. That's the bread-and-butter of our races. The majority of our races are on the mile-and-a-halves, so that's where we've really got to focus our program," said Matt Crafton, two-time Camping World Truck Series champion, and winner of the 2015 NCWTS race at Atlanta.  "I really look forward to going there. That's by far my favorite racetrack that we go to because of that old, worn-out asphalt. " 
The NASCAR triple header weekend will be a measuring stick for teams and drivers.  Leaving Atlanta Motor Speedway, they will how they stack up as they battle to qualify for the NASCAR playoffs. 
A Georgia Native Will Make His 400th Start
Georgia native, David Ragan is set to make his 400th career Monster Energy NASCAR Cup Series start at Atlanta. This start will mark the second in his 12th fulltime season in NASCAR's top level.
Ragan explained why celebrating this career milestone at his home track means so much to him: "It is very special that I made it to 400 consecutive starts. I think that is a huge accomplishment. As a young kid, I dreamed of being able to race at some of these large tracks and to get my NASCAR license.  For it to happen at Atlanta Motor Speedway is pretty neat too. I couldn't have scripted it any better. Atlanta Motor Speedway is where I got my start in racing - my Bandolero car and my Legends car back in the late '90's. Atlanta Motor Speedway is a special place to me and my family, and it's pretty cool that I'm going to run my 400th race there."
Ragan's hometown crowd will be cheering him on as he fights to top his career-best 8th place finish at Atlanta Motor Speedway.
Good Luck, Chase
Another Georgia native will also look to find luck at Atlanta this season. Chase Elliott is entering his third fulltime season in the Monster Energy NASCAR Cup Series. After a 2017 season where he finished in the top-10, 21 out of 36 races, and came in second five times, Elliott is itching for that first Cup Series victory. His home track is bolstering the effort to get Elliott to that win.
Atlanta Motor Speedway is collecting good-luck charms from fans from all over the country. These charms will be presented to Elliott at a special event at AMS on Feb. 13. Elliott spoke about the incoming luck, saying, "It is a cool idea for sure. I hope it brings some luck. My dad - they did a picture of him and he basically had all these good-luck token things, and he won a race shortly thereafter. So, my friends at Atlanta Motor Speedway had this idea to recreate the photo, so I hope it brings me some magic. We'll see."
There is still time to send Chase Elliott luck going into the season. All good luck charms should be sent to: AMS at 1500 Highway 19/41, Hampton, GA 30228, with attention to "Good Luck, Chase".
Although it is the second stop of the 2018 NASCAR season, the anticipation is already high for the 2018 Folds of Honor QuikTrip 500 at Atlanta. Preparations for the gritty 1.54-mile track are already being made to the cars that will compete on Feb. 25. Atlanta Motor Speedway brings out the best in the competitors all weekend long, but come Sunday, we will see which driver truly has what it takes to outrun the rest of the field.
For more information or purchase tickets today, call the AMS ticket office at (770) 946-4211, (877) 9-AMS-TIX or visit www.atlantamotorspeedway.com.
Wednesday, December 13, 2017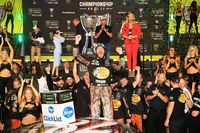 If you had any doubt heading into the NASCAR Cup Series' season-ending Championship 4 race at Homestead-Miami Speedway last month that New Jersey-born Martin Truex, Jr. would walk away with his first career NASCAR championship, you must not have noticed the momentum he had coming into the 2017 finale.
To put things in perspective, consider this: before Miami, Truex had won a whopping (and a Cup Series best) SEVEN races during the 2017 season. Those seven races, won in a span of less than eight months, equated to the same number of races he had won over the previous 13 years. Plus, there were a handful of other races Truex probably should have won in 2017 if not for several instances of either bad luck, bad timing or both.
Of the 36 races in 2017, Truex finished inside the top-10 26 times. Talk about consistency. Almost from the very beginning of the season, Truex led the Cup Series standings, piling up stage wins and playoff points all along the way.
Of course, like any NASCAR championship, it's not like it always came easy; Truex wasn't immune to slumps. Midway through the season, the No. 78 team turned in finishes of 33rd or worse three times in five races - not exactly an ideal resume for a championship-caliber driver.
But the Furniture Row Racing team, the small operation by relative Cup Series standards – and the only team not based east of the Mississippi – pulled themselves up by their bootstraps, built fast cars race in and race out and persevered among a group of world-class stock car drivers who were more than capable of claiming the Series crown for themselves.
By the time the Championship 4 was set, Truex emerged as the only driver among them who had yet to taste championship glory. Kyle Busch, Brad Keselowski and Kevin Harvick had all won Cup Series titles within the previous five seasons. But just as he was in the 35 weeks leading up to the finale, Truex was up to the task.
After starting the race on the outside of the front row, Truex immediately took the lead and led the race from the front of the field for each of the first 12 laps, setting the tone for what the other three Playoff drivers could expect for the rest of the day.
Throughout the race, Truex would lead four separate times, but none were more important than the final 51 circuits, during which he held on to the top spot from Lap 217 to the eventual checkered flag, fighting off challengers like Kyle Busch and Kyle Larson as the laps ticked off to the finish.
It was a lifelong dream-come-true for Truex when he got to hoist the championship trophy in Victory Lane that night, and perhaps no driver was more deserving than the quiet, congenial, hard-working Truex and the Furniture Row Racing team behind him.
Monday, December 11, 2017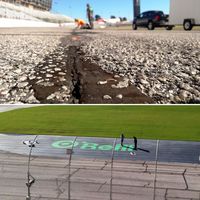 As 2017 comes to a close, track crews at Atlanta Motor Speedway are hard at work prepping the 20-year-old surface for another high-octane NASCAR race weekend to come in February 2018.
Homestead Miami came and went, as the checkered flag waved to mark the end of an era to begin another one. Though drivers, cars, and sponsors may change, the rough and tough surface of AMS remains steadfast. Even as the "Should They Repave or Not" debate continues, drivers and fans alike wait with great anticipation for one of their favorite races of the season.
Track crews have been sealing and repairing torn seams and cracks in the aging surface since the end of October, doing everything possible to protect the track from the harsh winter weather. It's safe to say these preparations were made just in time as sleet and snow fell upon the Atlanta area last week. More precautions will be taken if deemed necessary to defend her from Old Man Winter.
In late November came another scene that screamed, "Race Day is Coming" - painting the track. AMS' hard-working crew spent days carefully painting race sponsors' names and logos on the aprons, one step closer to hearing and feeling those engines roar once again. Soon will come the repainting of the track walls, giving this beloved racing venue a brand-new glow. This sharp, clean look won't last long though, as fans from all over the world will pour in to sign their names and send well wishes to their favorite drivers on race morning. Fans will mark their presence at the track, making memories that will last a lifetime.
Arrangements for the 2018 NASCAR race weekend at Atlanta Motor Speedway will continue throughout December, January, and early February. Perfect landscaping will be performed, more logos will be painted, flags and banners will be raised, pre and post-race activities will be organized down to the minute, and that's just scratching the surface. All of this hard work will be on full display in February during every second of the race weekend. AMS will once again shine in all her glory as 40 cars fly by a crowd of thousands.
As AMS continues to prepare for the 2018 NASCAR race weekend, one question remains: "Are you ready?"
Have you bought your tickets and Pre-Race Pit Passes yet? Have you made your camping arrangements? Have all of your tailgating gear together?
What are you waiting for?
Come February 23-25, 2018, the greatest drivers in the world will once again take to the historic asphalt of AMS to try to mark their place in the history books. Will a veteran of the sport continue to dominate? Or will a young up-and-comer prove his worth by tackling the worn beast?
Don't miss your chance to witness the new era of NASCAR in action at AMS! Purchase your tickets today by calling 877-9-AMS-TIX or purchase online here.
Monday, November 13, 2017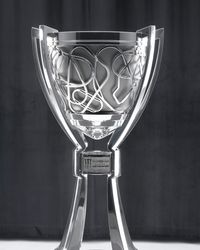 One way or another, the first champion of the Monster Energy NASCAR Cup Series era will be crowned this Sunday at Homestead-Miami Speedway, as both the NASCAR Playoffs and the 2017 season come to a thrilling end.
Four drivers remain in the championship hunt: Kyle Busch, who punched his ticket to the Championship 4 with a victory at Martinsville last month, Kevin Harvick, who did the same thing at Texas a week later, as well as Martin Truex, Jr. and Brad Keselowski, both of whom qualified on points.
A quick glance at each of these drivers' resumes will reveal quite the championship pedigree. Three of the four have won Cup Series titles in the past five years - Kyle Busch in 2015, Kevin Harvick the year before that and Brad Keselowski in 2012.
Interestingly enough, though, the only driver among them yet to taste championship glory, Martin Truex, Jr., enters the weekend as the odds-on favorite, at least according to the NASCAR experts. That's no surprise, of course - not this year. All Truex has done so far in 2017 is take his No. 78 Furniture Row Racing Toyota to Victory Lane seven times, finish in the top-10 on 25 separate occasions and narrowly miss adding to his stack of victories several other times when misfortune kept him from capturing the checkered flag.
But come Sunday, Truex Jr.'s NASCAR-leading seven wins won't help him much. There are no points to earn, no stage wins to stockpile and no season-long merit to fall back on. Simply put, the highest finisher among the Championship 4 at the end of the race - whether he wins the thing or not - will drive away from South Florida as the 2017 Cup Series champion.
As far as history at Homestead goes for these four drivers, it's a bit of a mixed bag. Kyle Busch stands out from the pack with one Cup Series victory 12 starts there, as well as two victories each in both the XFINITY and Camping World Truck Series. Harvick, meanwhile, has one victory to his name in all three series, and Keselowski has two race wins there in Cup.                                                                     
But remember how good Truex has been all year? Well, he's oh-fer in 12 career starts at Homestead in the Cup Series, so he'll have to rely on the momentum he's built all season if he wants to finish ahead of the other three Playoff drivers who have won in Miami.
All four have shown strength on the 1.5-mile tracks both this season and in the past, and each has a legitimate shot at winning the title this weekend. As good as they all are, it will likely come down to perfect execution, avoiding mistakes and relying on a winning strategy in order to clinch a coveted spot among NASCAR's elite.
Oh, and don't forget; there will be 36 other drivers on the track who will be gunning for a win equally as hard. A victory at NASCAR's highest level never comes easy, and that's 10-fold so for a title. There's nothing left to lose in the 2017 season, and this Sunday will be NASCAR at its best.
Tuesday, October 10, 2017

This weekend, Atlanta Motor Speedway will become the world's first "aerial stadium," as the first-ever Atlanta Air Show takes flight overhead on both Saturday and Sunday, Oct. 14-15.
The high-flying, aerial acrobatics display, the first of its kind at a NASCAR facility, will feature an all-star performer lineup of military aircraft, including the U.S. Air Force F-16 Viper, the A-10 Warthog and the U.S. Navy F-18 Super Hornet. Some of the nation's top civilian performers will include the Sky Soldiers Cobra Demo Team, Jack Links Jet Waco and Kent Pietsch, who will attempt to land his airplane on top of an RV!
The Atlanta Air Show will offer the comforts and convenience you won't find at any other air show in the nation. From ample shade in the concourse area, to real restroom facilities, food and beverage stands and places to sit down and eat, the event will offer an unforgettable experience as the high-speed action moves from the track to the skies above it.
The Atlanta Air Show has three viewing options: the Flight Line Skybox, which offers the ultimate VIP viewing spot inside the Flight Line Club Skybox, Preferred Seating, featuring your own reserved seat in an elevated location, and general admission Grandstand Seating, offering the most affordable way to enjoy the show.
Single tickets for the Atlanta Air Show start at just $19.50 for adults and $11.25 for kids ages 6-12. Grandstand seating for kids 6 and under is free. Parking is also free of charge on both Saturday and Sunday. Admission gates for the show open at 10 a.m. both days.
Visit airshowatlanta.com for more information, a full lineup of performances and to purchase tickets today!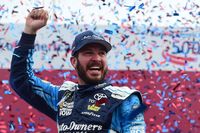 The 2017 NASCAR Playoffs are in full swing, and looming this weekend is perhaps the biggest wild card of the entire post season: Talladega.
After the three Round of 16 races at Chicago, New Hampshire and Dover that saw Furniture Row Racing's Martin Truex, Jr. win his fifth race of the season and Joe Gibbs Racing's Kyle Busch win for the third and fourth time in back-to-back races, it was the familiar face of Truex back in Victory Lane in the first race of the Round of 12 at Charlotte last weekend.
But when it comes to the 2.66-mile beast of a restrictor-plate race at the famed superspeedway in Alabama this coming Sunday, you might as well throw the favorites out the window, because the checkered flag is basically up for grabs in the unpredictable, high-stakes chess match of plate-track racing.
Of course, there's always an exception to the rule, and this time around, its name is Ricky Stenhouse, Jr. Despite currently sitting in last place among the 12 still-playoff-eligible drivers and 72 points off the lead, the fifth-year Cup Series driver for Roush Fenway Racing offers an intriguing storyline in what could shake up the playoff standings in typical unpredictable fashion.
Considering his last-place situation, it's not likely that Stenhouse would advance to the Round of 8 based on the competition ahead of him and his average finish of worse than 20th this season. But here's the catch: Stenhouse has won each of the past two restrictor-plate races this season, including Talladega's spring race back in May.
All of a sudden Stenhouse has a real chance to sneak his way into the next round of the Playoffs by virtue of a victory, leaving only the Kansas Race next Sunday afternoon as the last-chance for drivers like Matt Kenseth, Brad Keselowski and Ryan Blaney, who are currently below the Round of 8 cutoff line, to make up ground in the standings enough to advance.
As it stands right now, Truex is safely into the Round of 8 after his victory in Charlotte last weekend. Kenseth, Keselowski, Blaney and Stenhouse are currently on the outside looking in and would need to catch up in the next two races in order to advance. In between are Kyle Larson, Kevin Harvick, Chase Elliott, Denny Hamlin, Kyle Busch, Jimmie Johnson and Jamie McMurray, who sit in second through eighth place in that order.
But don't expect things to stay like that for long. The difference between victory and defeat and advancing to the next round of the Playoffs or having your championships hopes ruined in the blink of an eye, is razor-thin, and the next two races aren't exactly the most forgiving for drivers teetering on the edge.
The 68-pound Monster Energy NASCAR Cup is still anyone's to win, and it'll be 500 miles of edge-of-your-seat racing in the close quarters of Talladega Superspeedway this weekend, as drivers contend for a shot at the ultimate prize in the NASCAR Playoffs finale at Homestead-Miami Speedway next month.
Wednesday, September 13, 2017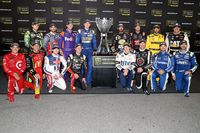 After 26 regular-season races, an accumulation of Playoff points via the new point system and a plethora of nail-biting finishes, the NASCAR Playoffs have been set, and it all comes down to 16 drivers eligible for the ultimate prize: The Monster Energy NASCAR Cup trophy.
Among them, easily the most impressive this season has been Furniture Row Racing's Martin Truex, Jr. With four race wins (and a few more he probably should have won, if we're being honest), 18 stage wins and 37 stage top-fives, Truex is the clear-cut favorite as we head into the first round in Chicagoland this weekend.
But NASCAR is a fickle, fickle sport with so many variables, that you may as well throw conventional wisdom out the window now. There's no telling who among the 16 might go on an unprecedented run of success, who might suffer a streak of bad luck and who might step up to the plate when the heat is really on.
Afterall, of the 16 eligible competitors, six of them are past Cup Series champions who know a thing or two about taking home a trophy. Take seven-time champion Jimmie Johnson, for example. He hasn't won since Dover, all the way back in June. But can you ever count out the man tied with Richard Petty and Dale Earnhardt for the most titles in the history of the sport?
Other past champions vying for the prize, like Kyle Busch, Kevin Harvick and Matt Kenseth, have proven that they can perform when the pressure is on - and when it's do or die in pursuit of the ultimate grand prize.
And how about Brad Keselowski? It was like he was shot out of a cannon to begin the 2017 season. After a mediocre finish in Daytona, he won at Atlanta in thrilling fashion and then went on to record four more consecutive top-five finishes, including another victory four weeks later at Martinsville - which just happens to be one of the 10 tracks hosting a playoff race.
And let's not forget past champion Kurt Busch. After winning the season-opening Daytona 500, he seems to have been lying low through the middle portion of the 2017 schedule, but he's recorded three top-fives in a row now and might just be peaking at the perfect time.
Of course, being a former NASCAR Cup Series champion is all well and good, but have you SEEN the crop of young drivers who are challenging the veterans for the title?
Out of nowhere it seems, Ricky Stenhouse, Jr. picked up his first two career Cup Series victories in the matter of eight weeks this year and has obviously mastered the art of restrictor-plate racing. Meanwhile, Ryan Blaney notched his own first career Cup Series win at Pocono and has been strong all season.
And speaking of first wins, Austin Dillon got his at Charlotte back in May and might just be a dark horse as the post season begins.
Oh, and let's not forget Kyle Larson. That youngster has not one, not two, but FOUR victories this year and finished second in the regular-season standings after only winning once in 2016. He's right up there with Truex as far as favorites go.
But what about winless drivers like Chase Elliott and Jamie McMurray? They're in the playoffs without wins, but consistency has been the key all along. And while that may be enough to get them this far, no winner in the modern era has won a championship without winning a race. Who knows - maybe they're just waiting for the right time to break out of their shells, but they had better do it soon, before the door is slammed shut.
Either way you cut it, there are some intriguing storylines for the next 10 weeks as the 2017 NASCAR Playoffs play out - and even some notable absences from the 16 eligible drivers.
It's just another reminder that anything can happen when there are 40 cars on the track but only one trophy when it's all said and done.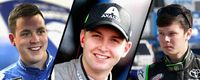 Like Major League Baseball's so-called "Hot Stove," NASCAR has its own period of major announcements regarding big-name retirements, open rides, new contracts and the lack thereof. Aptly-named, this year's Silly Season has already supplied some huge shakeups within the ranks of the best teams and drivers on the circuit - and it's not over yet. No doubt, there will be more to come as the 2017 season begins to wind down, but if there's one thing we do know at this point, it's that the Monster Energy NASCAR Cup Series will look a whole lot different when it returns to Atlanta Motor Speedway for the Folds of Honor QuikTrip 500 for the second race of the season in 2018.
With all the changes that have already been announced, it might be hard to keep track of who's going where and what team they'll be driving for when next season hits the track in Daytona, so here's a quick roundup of what we know so far and what we can expect when NASCAR makes its annual stop in Atlanta Feb. 23-25, 2018.
Dale Earnhardt, Jr. Retiring; Alex Bowman Replacing Him At Hendrick Motorsports
We've known for a while 2017 was going to be Dale Earnhardt, Jr.'s final season driving the No. 88 Chevrolet full-time for Hendrick Motorsports, but until recently, we weren't sure who would replace him. Alex Bowman, who filled for 10 races in the No. 88 while Jr. was out with injury last season, has been named the full-time replacement beginning in 2018. He joins Georgia native Chase Elliott, seven-time Cup Series champion Jimmie Johnson and the next driver on this list at Hendrick.
William Byron Moves Up To The Cup Series To Replace Kasey Kahne At Hendrick Motorsports
Before Kasey Kahne won the Brickyard 400 at Indy last month, he hadn't made an appearance in Victory Lane since winning at Atlanta late in the 2014 season. Despite the victory, it was soon announced that Kahne was out at Hendrick Motorsports at the end of 2017 and that 2016 XFINITY Series Rookie of the Year - and former AMS Thursday Thunder champ - William Byron would take over full-time in the No. 5 Chevrolet at Hendrick in the Cup Series next season.
Matt Kenseth Out At Joe Gibbs Racing; Erik Jones Replacing Him
2003 Cup Series champion Matt Kenseth will be shown the door at the end of the 2017 season after it was announced Joe Gibbs Racing will be releasing him from his contract as driver of the No. 20 Toyota. Stepping in to replace him is current Cup Series rookie and driver of the newly-minted-this-season No. 77 Toyota at Furniture Row Racing, which means...
…There Is An Open Ride At Furniture Row Racing
Will Furniture Row fill the vacant No. 77, now that Erik Jones has signed with Joe Gibbs, or will they contract back to a one-car team for 2018. There have been some rumors as to who might fill the ride, if they decide to go that route. One of them is the aforementioned Kasey Kahne, but another one is the next driver on this list.
Kurt Busch (Might Be) Out At Stewart-Haas Racing
Stewart-Haas Racing has opted not to pick up the one-year option on Kurt Busch's contract for 2018. While that might sound like the end of the road for Busch at Stewart-Haas racing, that doesn't mean they can't agree on a new contract for next year. Be sure to keep an eye out for any updates on this developing situation. In other Ford news…
...Ryan Blaney Will Become The Third Team Penske Driver
Well on his way to another successful season driving for the Team Penske-affiliated Wood Brothers Racing, it has been announced that Team Penske will expand to three teams in 2018, with Blaney joining as a full-fledged Penske driver behind the wheel of the No. 21 Ford. Meanwhile, current Richard Childress Racing driver Paul Menard will fill Blaney's vacancy, which leaves an open ride at Childress. Popular opinion is that it will be filled by Childress' grandson, Ty Dillon, but nothing official has yet been announced.
As far as other drivers' fate like Danica Patrick's and Kyle Larson's, lots will depend on sponsorship deals and contract negotiations. But if there's one thing we've learned so far, it's to expect the unexpected as the 2017 Silly Season rolls on.
Many fans associate Atlanta Motor Speedway with its annual NASCAR weekend that caps off with the Folds of Honor QuikTrip 500. But there is a whole lot more to what happens at Atlanta Motor Speedway throughout the rest of the year!
Covering more than 880 acres, AMS is one of the region's premiere facilities, hosting events ranging from motorsports entertainment, the Summit Racing Equipment Atlanta Motorama, music festivals, private events and more!
Sure, planning for when NASCAR turns AMS into one of the largest cities in Georgia for a span of three days is a year-round job (yes, we even have a jail on race weekend!), but the hive of activity at our facility is one that is non-stop.
Once over the NASCAR haulers pack up and head on down the road, attention here zeroes in on one of our most visible events of the year - the Summit Racing Equipment Atlanta Motorama! Next year will be the fifth year of this massive car show event - and the biggest one yet - so plan now to be here April 18-19, 2018!
And then comes the current time of year, when we stage weekly events both in the areas of short-track racing as well as street-style drag racing!
On Thursday evenings, up-and-coming drivers and veterans of the quarter-mile take to the track with one goal in mind - to claim the checkered flag at Thursday Thunder presented by Papa John's Pizza! For only $5, or free for kids ages 5 and under, fans can see the high-intensity drama of short track racing and be part of the fun of grandstand entertainment each and every week! Gates open at 6 p.m., and feature races begin at 7:30 p.m.!
On Fridays, the speed goes to a straight line when the action becomes all about drag racing and proving whose car can get to the end of the pit lane drag strip first at O'Reilly Auto Parts Friday Night Drags!
With 18 divisions, there's a spot for most any car to take part in one of the country's most successful grassroots drag racing programs! And did you know that even you can race at Drags? That's right! For $20, you can enter your very own vehicle to drag race or show it in the weekly Show-N-Shine.
Plus, all show participants have the opportunity to drive their vehicle on the track in the Speedway Cruise, just before drag racing eliminations get under way! Grandstand admission is $10, and the spectator gates open at 6:30 p.m. Drag eliminations roll off at 9:09 p.m.
Now, with more than 880 acres, that means we have plenty of space to host various activities! Later this year, we'll continue to host Imagine Festival as well as the Georgia State Fair. In October, the Atlanta Air Show will be staged at AMS as well! You can always find a listing of upcoming events at the link below!
And did you know that you can also rent all or part of our facility for an event? Throughout the year, Rinnai, the official/exclusive water heater of Atlanta Motor Speedway, hosts clients, employees and others at AMS with Active Pest Control also being among those doing so. You can also rent parts of our venue for parties, prom events, dinners and so much more!
So while many may first think of NASCAR when they think of Atlanta Motor Speedway, there is also a whole lot more going on around here throughout the year!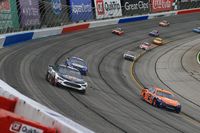 In seasons past, it was easier for teams and drivers in NASCAR's top division to bury races in their collective memories. But with the sport's current points and playoff format, no race can be taken for granted, making every race of the season, including the Folds of Honor QuikTrip 500 at Atlanta Motor Speedway, one that drivers may look back on and lament if they end up missing out on the NASCAR Playoffs.
In short, a driver's missed opportunity to seal an early-season victory somewhere like Atlanta could come back to haunt them, an element that shines a brighter spotlight on AMS, which makes it a critical race not just for teams, but for fans to keep a very close eye on.
During a season that has been marked by a number of first-time winners, the pressure has been turned up a notch for top drivers in the series, some of which contended for a title in NASCAR's top division last season. As it stands now, just six spot remain in the NASCAR playoffs. Among the drivers who have not yet won? All four Joe Gibbs Racing drivers, in addition to Kevin Harvick, Chase Elliott and Jamie McMurray.
In fact, of the top ten finishers in this year's Folds of Honor QuikTrip 500, six of them have yet to qualify for the NASCAR Playoffs with a win. Perhaps no driver had a day more worthy of a victory only to come up short at Atlanta than Harvick.
He dominated the race, leading a staggering 292 of 325 laps, only to have his shot at a win undone by a late pit-road penalty. Matt Kenseth, Kasey Kahne and Chase Elliott, none of whom have made their way into Victory Lane yet this season, finished inside the top five here in March. Adding to the list of drivers who have not yet gotten a win in 2017 but finished within the top-ten here are Joey Logano and Jamie McMurray. Logano is in need of another win as a result of his Richmond victory being ineligible for playoff points due to a penalty infraction.
There may be a 26-race fight to get to the NASCAR Playoffs, but drivers and fans could very well point back to Atlanta as a race that might have altered their playoff chances.