Enjoy the race in the lap of luxury with one of our premium seating options. Contact an Atlanta Motor Speedway Representative for details on the exclusive Club One luxury suite or one of the Speedway's Public Suite options. Due to social distancing and coronavirus safety protocols, seating is extremely limited.
*If you had tickets for the 2020 event, please log in to Account Manager to manage your tickets.*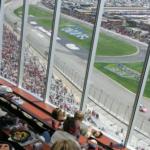 Club One Tickets
This all-inclusive ticket is the ONLY one that you will need. With theater seating, more than 63 flat-screen TVs (even in the bathroom!). In addition to an exquisitely decorated interior and marble tile flooring, Club One provides a spectacular place from which to enjoy NASCAR racing at Atlanta Motor Speedway!
Weekend: $675
Sunday: $545