Fans Welcome!
Atlanta Motor Speedway will host two NASCAR Cup Series races in 2021 – the first time since 2010 that drivers will have two chances to claim victory at the iconic track.  Atlanta's second NASCAR Cup Series Race is the Quaker State 400 presented by Walmart on July 11, 2021. Don't miss any of the action by experiencing all the thrills in person.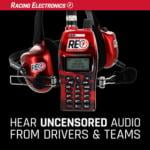 Race Scanner
Curious about what drivers talk about during the race?
Hear uncensored in-car audio with a scanner rental from Racing Electronics! 
Each scanner rental from Racing Electronics comes with: 
1 RE Race Scanner 
Headphone(s)
Batteries
Clear Carrying Tote  
*All scanner rentals need to be secured in advance before you arrive at the track for the race weekend. Walk-Up rentals will not be available.* 
Important Dates: 
June 28, 2021 - Prices increase 
July 8, 2021 - FINAL day to secure a rental 
Scanner with 1 set of traditional headphones: $40
Scanner with 2 sets of traditional headphones: $50
Scanner with 2 sets of intercom style headphones: $60