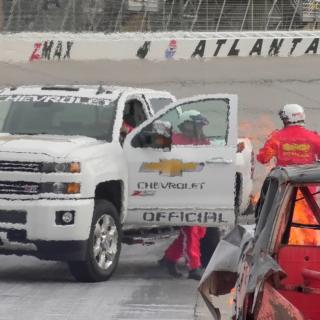 Thursday November 14, 2019
About 200 people serve clean up, EMS, and firefighting roles inside Atlanta Motor Speedway's 1.54-mile oval. Well before being stationed inside the track, each one goes through training to get familiar with the task at hand.
Recent Headlines
11/11/19

The prestigious award was presented at The Coca-Cola Company's annual Veterans Day Celebration in Atlanta to Speedway Motorsports President and CEO Marcus Smith.

10/25/19

The third event of the Fall Series of Legends and Bandolero races has been postponed due to forecasted inclement weather.

10/23/19

NASCAR fans will be able to hear the roar, feel the rush, and see the exciting action like never before at Atlanta Motor Speedway in 2020.

10/18/19

22 years have passed since Atlanta Motor Speedway was last repaved. Since then, the track has endured 22 blistering summers and 22 cool winters, all of which take a toll on the aging asphalt.
More News