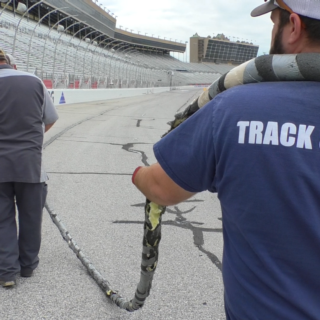 Friday October 18, 2019
22 years have passed since Atlanta Motor Speedway was last repaved. Since then, the track has endured 22 blistering summers and 22 cool winters, all of which take a toll on the aging asphalt.
Recent Headlines
10/02/19

Atlanta Motor Speedway is offering a new ticket package that packs in the most fun at the best price for diehard NASCAR fans: the Extreme Package.

09/24/19

The start times for all three races during Georgia's NASCAR weekend at Atlanta Motor Speedway are set.

09/13/19

Atlanta Motor Speedway has promoted Scott Brumfiel to Director of Ticket Sales and Service.

09/11/19

Atlanta Motor Speedway and the American Red Cross collected enough blood to save hundreds of lives Wednesday.
More News